It wasn't a long flight: just over an hour above the Gulf and then back to its Dubai origin. It peaked at about 32,000 feet. But when Captain Fali Vajifdar and copilot Captain Kahlid Akram of Emirates airline set their Boeing 777-300ER back down at Dubai International Airport yesterday, they completed another leg of the aviation industry's journey toward net-zero carbon emissions.
The Emirates test flight was the first in the Middle East or Africa to use 100% sustainable aviation fuel (SAF) to power one of the two GE90 jet engines. Following earlier tests of SAF by other airlines, airframers, and GE Aerospace, the successful demonstration marked yet another promising sign that the alternative fuel was safe and reliable and requires no changes to the aircraft or the GE90 engines to work efficiently. Currently, SAF is approved for use in all aircraft, but only in blends of up to 50% with conventional jet fuel. The demonstration could serve as another important data point for regulators considering the approval of 100% SAF. "It's a huge milestone and paves the way to more SAF in the industry, helping us reach our decarbonization goals," says Zeina Chakhtoura, senior customer support manager for GE Aerospace.
GE Aerospace has been researching the use of SAF in its engines for years. A big breakthrough came in late 2021 when a United Airlines plane carrying 115 people flew from Chicago to Washington, D.C., to become the first experimental flight with passengers to use 100% SAF in one of its two CFM LEAP* engines. The other LEAP engine operated on conventional jet fuel.
But the technology remains new, so data from the Emirates flight represents a notable contribution to 100% SAF research and, Emirates hopes, could set an example for the aviation industry. "Previously, the only flight to use this blend was the United flight, and across the industry we've probably clocked fewer than five or six hours with it," says Firdous Khan, Emirates' vice president of line maintenance. "So the hours we at Emirates have clocked for the first time on a wide-body airplane with this blend adds a significant amount of industry knowledge and a general comfort level with this technology."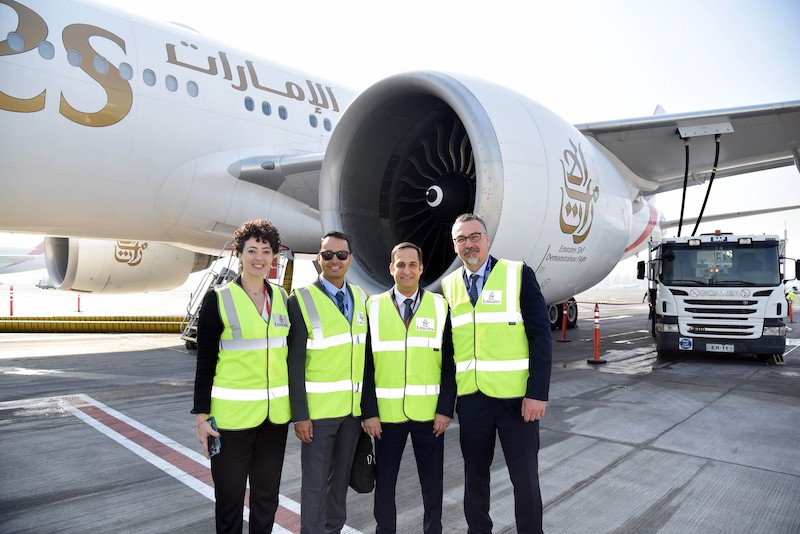 The potential impact of SAF on decarbonization is significant, as SAF reduces CO 2 emissions from how it's made. The use of renewable feedstocks and processes reduces net CO 2 emissions over the entire lifecycle of SAF compared to fossil-based fuels. Switching from petroleum to SAF could reduce fuel life-cycle CO 2 emissions by up to 80%, according to the Air Transport Action Group and the International Air Transport Association, two industry groups. But for now, it's expensive — SAF can cost three to five times what conventional fuel oil goes for — amid little supply. Research by IATA shows that SAF production levels make up less than 0.1% of global fuel supply.
Emirates' demonstration flight represents years of intricate engineering and operational work. Its partners include GE Aerospace, Boeing, Honeywell, Neste, and Virent. Emirates conducted its first flight with SAF-blended fuel out of Chicago O'Hare airport in 2017, received its first SAF-powered Airbus A380 in 2020, and used 32 tons of SAF for flights out of Stockholm that same year. In 2021 it signed a memorandum of understanding with GE Aerospace and Boeing to develop a test fight that uses 100% SAF in a Boeing 777 powered by GE90 engines.
Sustainable aviation fuel can be made from any of 60 different feedstocks, among them plant oils, algae, greases, fats, and captured CO 2 . Working at the Emirates Engineering Centre in Dubai, engineers arrived at a mix of HEFA-SPK (hydroprocessed esters and fatty acids and synthetic paraffinic kerosene) and HDO-SAK (hydrodeoxygenated synthetic aromatic kerosene). The combination was crucial, Khan says, because it produced a fuel that qualified as "drop-in" — meaning it can be dropped into existing aviation equipment and infrastructure without modifications once 100% SAF is approved for aviation use.
The partners also had to streamline supply routes for the remotely sourced fuels. "One of the key reasons that such flights have not happened in the past is because of all the hurdles to get enough SAF fuel to this location to do such flights," says Chakhtoura.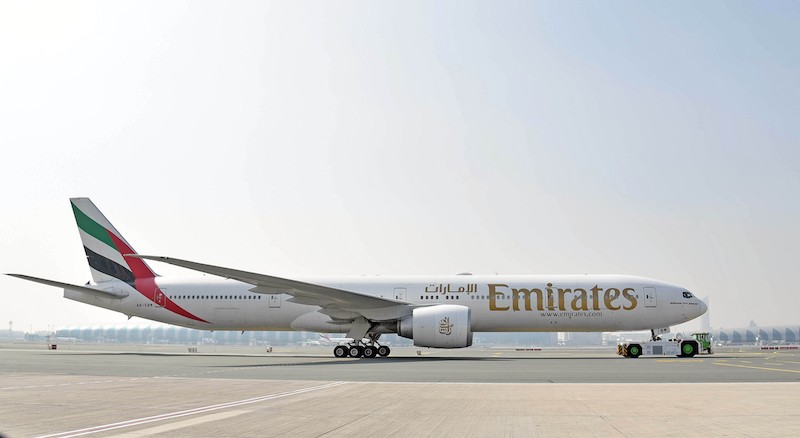 SAF complements a range of other emissions-reducing measures GE Aerospace and Emirates continue to pursue. "One is using the latest flight technology — getting the most efficient airplanes into the fleet so that by their design they consume less fuel and give better fuel efficiency," says Khan. "The second is optimization of navigation routes: eliminating unnecessary flying time, picking up tailwinds, and minimizing fuel burn. A third is quality carbon offsetting schemes. And the last, but in a sense most transformative, is SAF, which will take more time to mature, especially in its availability in the Middle East."
Emirates' test fight arrives at a perfect moment. At the end of this year, an estimated 80,000 delegates and 140 heads of state are expected to convene in the United Arab Emirates, when the 28th annual meeting of the Conference of the Parties (COP28) brings governments, businesses, NGOs, and civil groups together to combat the climate crisis. "From our perspective, this test flight could not come at a better time," Khan says, with audible enthusiasm. "Last year, UAE became the first country in the region to commit to a net-zero 2050 emissions initiative. For us to be able to do this flight demonstrates our commitment to sustainability."
"We have very clear goals, and very ambitious ones," GE Aerospace's Chakhtoura says. "We are industry leaders when it comes to pushing for SAF and decarbonization in general, by leveraging existing technology and inventing the future of flight."
Categories
tags